RAGNAROCK is a contemporary and cultural historical museum located in Roskilde, Denmark. It is a tale of Danish youth culture told through the sounds, imagery, and symbols of rock and pop music.
Approach
We wanted to create a contemporary museum experience that could resonate with a young audience who isn't your typical museum visitor. To do this we challenge the conventions of traditional museum exhibition design by not using historical objects as a hook for storytelling. Instead we used contemporary interactive elements to invite visitors to engage in the stories of each room.
Solution
By using the concept of "Amplification" we focused on iconizing the theme of each room through scenographic installations.
HEAVY™ designed the entire exhibition and overall brand experience. This ranged from the initial concept to floorplanning, scenography, interactive installations, film, audio stories, copywriting, graphics, visual identity and merchandising.
A Fan Culture Sculpture
In one room a 3.5 meter tall, black leather heart is iconizing the theme of fan culture. By screaming into the heart visitors can challenge each other in an interactive screaming game and compete to be RAGNAROCK's most dedicated fan.


Interactive Timeline
We have designed an interactive timeline visualized as a giant equalizer. The concept of "amplification" made made 70 years of music history come to life and invites the audience to engage in the content. Audio plugs allows the visitors to listen through Top Charts and Genres from early bebop to modern trap.



Demo Tape Installation
Even the greatest composers start with a sheet of blank, white paper. To iconize this we designed a white room containing a supersized white mix tape to represent "the demo" and the creative process. The mixtape lets the audience listen to early recordings of well know bands through a simple, built in touch interface.

Spin the Vinyl
We chose to showcase the evolution of formats and media, by designing a giant spinning record player that plays hits in 10x slower tempo. Visitors are encouraged to lie down and spin around on the record while battling each other in an interactive music quiz.



Interactive VJ Station
Visuals have always played a big part in music. To showcase this, we've designed a room where the audience is in complete control of the atmosphere. The room connects three different visual styles: psychedelic, laser and mapping, through interactive scenography. By engaging with intuitive interfaces the audience is able to become a time traveling VJ and active every visual and auditive aspects of the room.


Overview and Map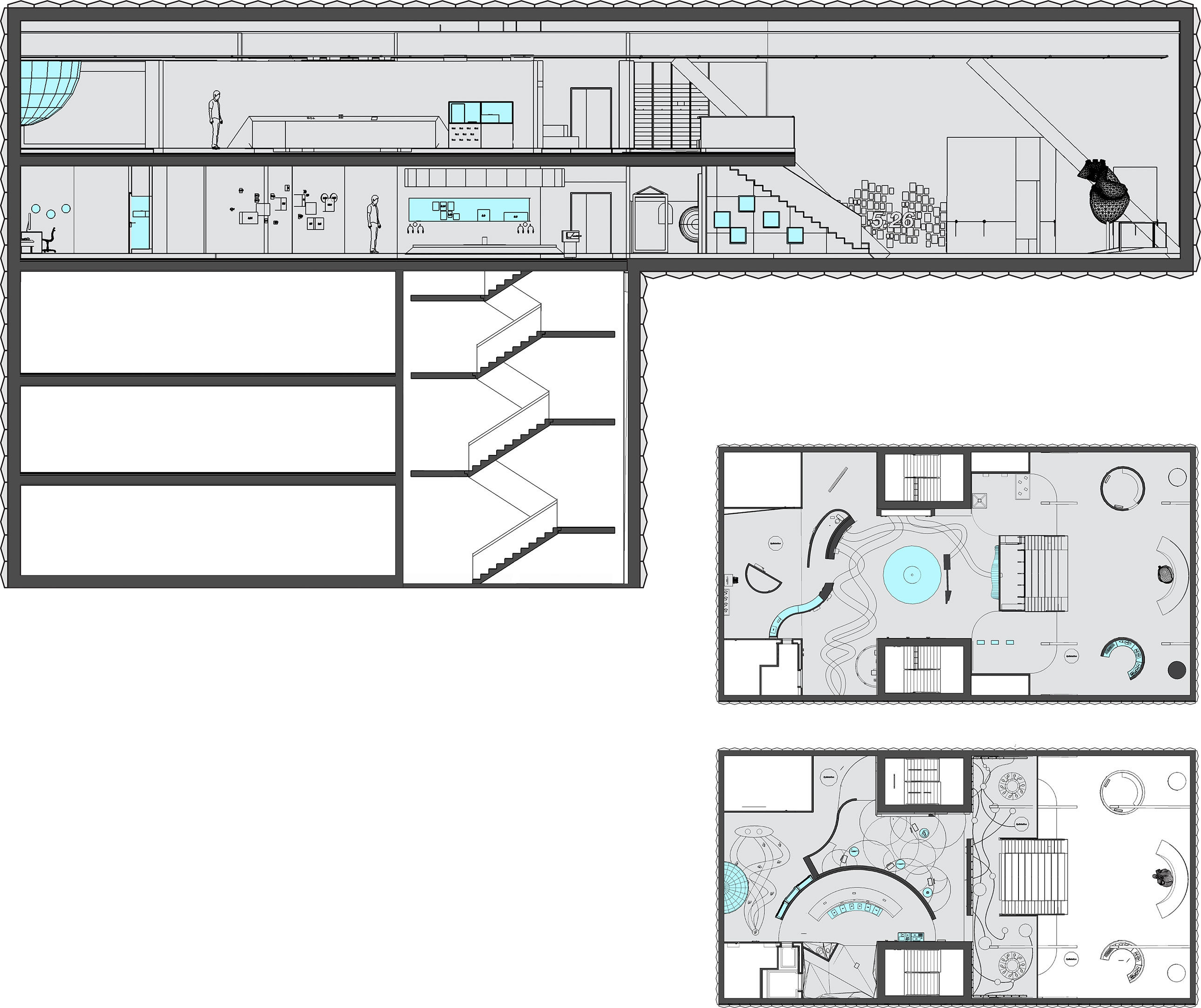 Collaborators

White Noise Agency

Concept & Management

Jesper Harding / YOKE

Concept
What we did

Concept Development

Exhibition Design

Interactive Installations

Spatial Design

Materials

Art Direction

Brand Identity

Visual Identity

Brand Application

Merchandising

Brand Assets

Brand Guidelines

Graphic Production

3D Modelling